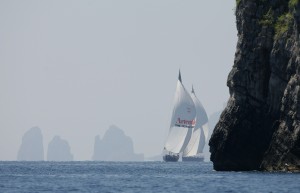 After five years, the race of the Tre Golfi established by Conte Matarazzo flanked by Ferrarelle, back to rest on the island of Tiberius, in collaboration with the Yacht Club Capri, with which, in previous editions, the Italian club Napoli had a great team spirit. "In the wake of this renewed agreement we hope to grow together again in the future, offering racers not only the beautiful days of sports and sailing and a high technical level of the races in an incomparable beauty, but also a proper welcome by traders and local structures to the many owners and crews that we hope will come back with pleasure on Capri, "said the President of the Club Italy, Roberto Mottola Amato, whose mandate was renewed just last March 12. Accompanying him to the Vice Presidency, also for the next two years, both Maurizio Pavesi, who Woodpecker Milone, friend and helmsman of many successes.
"We have achieved an important goal," said Marino Lembo, President of the Yacht Club Capri, "bring the prestigious Regatta of the Three Gulfs in Capri so that sees the rebirth of an important synergy between the Yacht Club Capri and the Circle of Remo and Sailing Italy. This event – ends – will have a major fallout in terms of the local economy, going to be placed at the beginning of the tourist season of 2015 ".
The path for the conquest of the perpetual challenge will be that of the first edition of 1954: from Naples reach the isoladi Ponza, to return along Capri, circumnavigation of the islands of Li Galli, facing Positano and arrival at Marina Grande in Capri. First place overall ORC, will be awarded the Cup Senatore Matarazzo; Cup Gustavo d'Andrea, will be delivered to the first real-time and the Cup to the winner Mariano Verusio Overall IRC. Participants will be fascinated by the natural spectacle offered by the coast and its colors, without neglecting the technical aspect linked to the continuous changes of wind due to the particular topography of the coast.
The arrival in Capri after about 175 miles will not only appreciate the beauty of the island, but also to rest while waiting to get on with the racing buoys May 15 to 17 in its waters of Capri for the traditional Week of the Three Gulfs – National Championship of the Tyrrhenian Sea. The tests on the buoys will be valid for the purposes of the National circuit of the Class X-41.