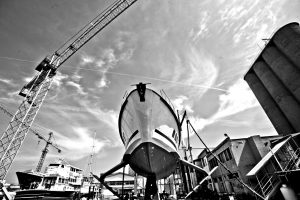 Salerno and the Aeolian Islands are finally closer, thanks to the entrepreneurial initiative of the young Fabio Gentile, MD of the maritime company Alicost SpA, which from July 6th will start the first maritime connection in the history of the Port of Salerno to the islands of the Aeolian Archipelago. A project which was put in place by the shipowner Tommaso Gentile, creator of the VolaViaMare brand, well-wisher of the "Cilento Blu" maritime connections and in the last years of his life committed to creating a link between the two lands which marked his years of growth: Sicily and Campania. An illuminating shipowner, for decades long considered as a reference point to the entire southern maritime sector, Tommaso Gentile has traced the routes by sea that have allowed economic development in the passenger and charter transport circuit in the Amalfi coast and the entire province of Salerno. And here is a new stage of his journey, to which he gave continuity to his son Fabio, with the first connection in the history of the Port of Salerno with one of the most desirable tourist destinations in Italy: The Aeolian Islands.
"The maritime connection will start on the 6yh of July – explains Fabio Gentile, MD of the shipping company Alicost – for the occasion we have focused on a type of hydrofoil that is ideal for this type of routes thanks to its good stability in navigation, built from Rodriquez Shipyard, and renamed "Tommy ". A fast all-aluminum unit, with a length of 31.20 meters and 6.71 meters beam, with the two side wings reaching 12.70 meters in total length. The Tommy can guarantee 38 knots of speed and is enabled to transport 250 passengers".
The new sea connection will therefore begin on July 6th from the Manfredi Pier with destination: Stromboli, Panarea, Salina, Vulcano and Lipari. The characteristics of the hydrofoil guarantee a relaxing and fast navigation. Thanks to the arrangement of the two side wings the Tommy can even, at a certain speed, navigate on the surface of the water and precisely "Volare Via Mare" (Flying by sea).
The maritime connection from Salerno, Manfredi Pier, to the Aeolian Islands will be active from 1st of July from Friday to Monday. It will leave every day from Salerno at 2.40 pm with arrival in Stromboli at 6.30 pm, Panarea at 7.10 pm, Salina at 7.40 pm, Vulcano at 8.15 pm and Lipari at 8.35 pm. From the Aeolian Islands the departures will always be scheduled from Friday to Monday every day departing from Lipari at 8:30 am, from Vulcano at 8:50 am, from Salina at 9:20 am, from Panarea at 9:40 am, from Stromboli at 10.10 am Arrival in Salerno at 14:00. The ticket price is starting from 50.00 euros.