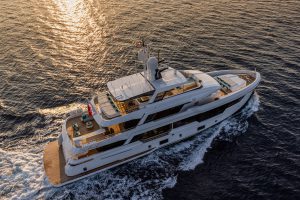 Dopo la prima mondiale, il Trofeo Revelation of the Year, e dopo il Cannes Yachting Festival 2021 e l'intensa stagione invernale nei Caraibi, l'RSY 38M EXP M/Y Emocean farà il suo debutto al Palm Beach Boat Show 2022.
Costruito per una coppia esperta, che è stata coinvolta da vicino in tutti gli aspetti della progettazione e della costruzione dello yacht, l'RSY 38m EXP M/Y Emocean è progettato per trascorrere lunghi periodi a bordo in totale comfort e sicurezza, in qualsiasi condizione di mare.
"Siamo orgogliosi di vedere il nostro primo Explorer Yacht navigare in tutto il mondo – afferma Ermanno Bellettini, presidente e amministratore delegato di Rosetti Superyachts – Questo è stato il percorso scelto insieme agli armatori fin dall'inizio, con l'obiettivo di costruire uno yacht in grado di attraversare l'Oceano Atlantico in tutta sicurezza e vivere a bordo tutto l'anno. Questo progetto si è concretizzato grazie alle competenze tecniche e ingegneristiche del Gruppo Rosetti Marino".
"Il mercato americano è per noi molto interessante – aggiunge Andrea Giora, sales & marketing director di Rosetti Superyachts – ed è per questo che abbiamo lavorato a stretto contatto con gli armatori per avere il nostro Explorer di 38 metri in mostra al Palm Beach Boat Show 2022. Questa sarà l'occasione per vedere Emocean, in particolare per quei clienti che non hanno avuto la possibilità di farci visita al Cannes Yachting Festival a settembre dello scorso anno".
Foto: Alberto Cocchi