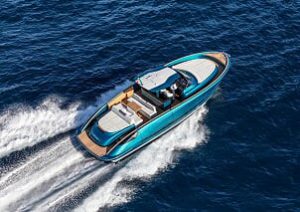 Già al suo debutto al salone di Cannes, il Solaris Power 48 Open aveva catturato l'attenzione di tutti i visitatori, ma è durante il Boot di Düsseldorf che è riuscita a conquistare il riconoscimento tanto atteso di European Powerboat of the Year 2020!
Solaris Power 48 Open, concepita dal team che ha sviluppato anche il modello precedente, il 55 Lobster, composto da Giuseppe Giuliani, Norberto Ferretti e Brunello Acampora, si è aggiudicata l'ambito premio nel corso della "Flagship Night", la tradizionale cerimonia di premiazione annuale delle migliori barche dell'anno.
La giuria, composta dagli esperti delle principali sette testate di settore europee, ha decretato all'unanimità la vittoria del 48 Open, grazie alla bellezza del design, a una qualità costruttiva "da primato nella categoria" e alle capacità marine che rendono la navigazione sicura e confortevole con qualsiasi condizione di mare.
Con questo riconoscimento il cantiere di Forlì, già noto nel mondo velico, entra a pieno titolo tra i marchi di riferimento del settore degli yachts a motore.
In poco meno di un anno dall'uscita del primo modello, Solaris Power è riuscita nell'intento di affermare i suoi prodotti nell'ambito degli yachts a motore. Per il futuro Solaris Power ha già in programma di continuare ad ampliare la gamma con un investimento importante sui modelli Open, di cui il 48 è il capostipite, con l'introduzione di un 58 Open e di altri modelli di dimensioni più piccole.