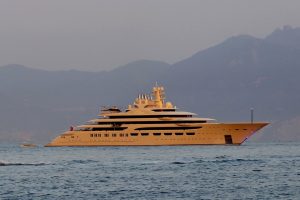 Italy, a destination for mega yachts? For certain! To the point of having continuity even in winter, mainly in Civitavecchia and Trieste, where the berthing of units over one hundred meters have been recorded. In November, the port of Civitavecchia has in fact moored the 156 meters Dilbar, which belongs to Alisher Usmanov and it is the largest yacht in the world in terms of volume.
"This is certainly a very important data – illustrates Francesco Luise, manager of the Luise Group – for the area in Lazio; besides, this event has been received positively by the Port Authority in Civitavecchia, which sees in this type of traffic a further development for the port and tourist activities of the whole city ".
Instead, Azzam, which is the "longest" unit in the world (180 meters), has moored in Trieste; just like the pre mentioned yacht, this one is also assisted by the maritime agency Luise Group, Italian leader in the world of yachting, with 22 branches on the Italian coasts and also working in 14 countries overseas through the BWA yachting brand.
The 180-meter Azzam is a private yacht owned by the Amiratian sovereign Khalifa bin Zayed Al Nahyan.
"These are International shipowners who reinforce what the Italian tourism has to offer and utilize the luxury services that, for 170 years, our brand has provided the Italian coasts with; – illustrates Francesco Luise, manager of the Luise Group – 2018 has been, for Italy, the year of the megayachts;  the numbers of large berthing, that have touched the ports of Riposto and Palermo in Sicily, Marina Molo Luise in Naples, Stabia Main Port in Castellammare di Stabia, Venice, Porto Cervo, Brindisi, Civitavecchia and Trieste, demonstrate this. Our commitment, as entrepreneurs of the maritime cluster,  is to continue the expansion of synergies with other operators in the industry, to finance territorial marketing initiatives, to create opportunities in order to allow these units to enter national ports, encouraging the economic growth of our cities and the tertiary sector ".
Next stop over? The international boat shows, where from  September until May, the companies of  Luise Group will illustrate exclusive tourist itineraries with luxury services, in order to identify and deepen the knowledge of the environmental, cultural and tourist beauties of the Italian coasts.