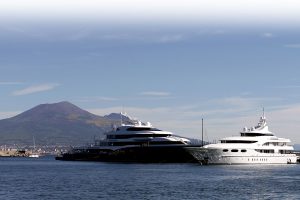 "L'eccellenza femminile nel mondo marittimo": è il titolo del convegno in programma mercoledì 20 novembre nell'aula magna dell'università Parthenope (Via Acton, 38 – Napoli) organizzato nell'ambito dell'International Maritime Organization, che quest'anno ha dedicato la Giornata Marittima Mondiale (World Maritime Day) alla donna ed ha invitato tutti i suoi Stati membri a celebrare la ricorrenza con iniziative che rilancino la figura femminile nel settore marittimo e portuale.
In Italia il Comando generale delle Capitanerie di Porto ha invitato il Propeller, la Federazione del Mare e WISTA ad organizzare tre eventi specifici su questa materia.
Dopo i successi di Trieste e Genova, la tappa conclusiva sarà appunto a Napoli il 20 novembre con inizio alle ore 9.30.
Dopo i saluti, affidati ad Alberto Carotenuto, rettore Università Parthenope; Pietro Vella, ammiraglio ispettore, direttore marittimo della Campania; Mario Mattioli, presidente Federazione del Mare; Umberto Masucci, presidente The International Propeller Clubs e IPC Port of Naples; Greta Tellarini, socia WISTA Italia, Women's International Shipping & Trading Association; Mauro Coletta, direttore generale Ministero Infrastrutture e trasporti; sono in programma due tavole rotonde. La prima verterà sul tema "Portualità" e sarà moderata da Raffaella Del Prete, socia WISTA Italia, direttrice Reefer Terminal APMT-Savona. Questi i relatori Luisa Del Sorbo, direttrice generale Stabia Main Port (che parlerà di Terminal portuali); Fabiana Esposito, Compagnia Unica Lavoratori Portuali di Napoli (Lavoro portuale); TV (CP) Enrica Naddeo, ufficiale del Corpo delle Capitanerie di porto (Autorità marittima); Carla Roncallo, presidente AdSP Mar Ligure Orientale (Autorità di sistema portuale); Marianna Buonfanti, ricercatrice SRM-Gruppo Banca Intesa (Ricerca economica). La seconda sessione tratterà il tema dello Shipping e sarà moderata da Bianca D'Antonio, consigliere IPC Port of Naples, giornalista. Interverranno Mariella Amoretti, armatrice (Industria armatoriale); Claudia Mondino, comandante nave Grimaldi Lines (Lavoro marittimo); Marjolein van Noort, coordinatrice European Network of Maritime Cluster (Organizzazioni marittime) Paola Vidotto, direttrice generale Accademia Italiana Marina Mercantile (Formazione superiore); Elvira Romano, già dirigente ITTL. Duca degli Abruzzi di Napoli (Formazione scolastica). Le conclusioni saranno affidate all'Ammiraglio Ispettore Giovanni Pettorino, Comandante Generale Capitanerie di Porto-Guardia Costiera. Saranno inoltre presenti studenti dei cinque istituti nautici della Campania.