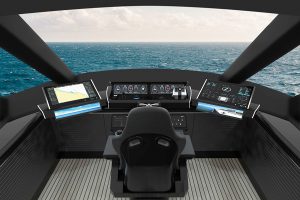 Al Monaco Yacht Show 2019, Team Italia ha presentato i primi risultati delle soluzioni tecniche frutto della collaborazione con Rolls Royce, con la sua divisione MTU. L'agreement firmato a Cannes va ad ufficializzare una collaborazione che si è sviluppata nell'arco degli ultimi 12 mesi, durante i quali i reparti R&D delle due aziende hanno intrapreso un percorso di sviluppo di nuove soluzioni di plancia integrata – denominata MTU SmartBridge – che potrà offrire al mercato un progetto di altissima qualità ed estremamente innovativo.
Massimo Minnella, co-fondatore e CEO di Team Italia, ha dichiarato: "Siamo felicissimi per questa nuova opportunità di lavorare con Rolls-Royce, che ci porta ad unire le forze per creare le tecnologie del futuro del marchio MTU. Abbiamo verificato già da precedenti collaborazioni che i nostri prodotti si integrano perfettamente tra loro; qualità e innovazione sono la priorità di entrambe le aziende".
Knut Müller, "head of marine and governmental business" della divisione Rolls-Royce Power Systems, ha aggiunto: "L'MTU SmartBridge occupa un posto importante nel nostro percorso di evoluzione da costruttore di motori a fornitore di sistemi integrati. Un vantaggio per i nostri clienti, ai quali potremo dare un'unica e più completa soluzione tecnologica".
Il concetto modulare alla base della nuova soluzione di plancia risponde ai requisiti necessari anche per gli yacht di serie che potranno essere customizzati su misura in base alle richieste degli armatori. Le nuove soluzioni prevederanno un'unica piattaforma di sviluppo che andrà ad implementare la plancia I-Bridge® Team Italia oltre che con il monitoraggio Onyx di tutti i sistemi di bordo anche con la propulsione, fino alla gestione dati sul cloud. Questo potrà facilitare tutte le attività di gestione della nave da parte dell'utente fino alle attività di "Analytics" indispensabili per i reparti di engineering dei cantieri stessi. La plancia sviluppata in collaborazione tra le due aziende sarà già disponibile dal 2020 per yacht di serie e megayacht full custom.