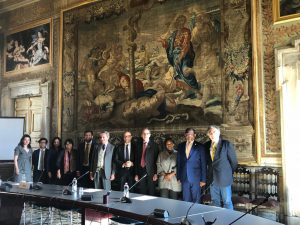 Il 17 maggio si terrà a Roma la tavola rotonda "Italy and the Indian Ocean Rim Association (IORA) – Blue Economy as an opportunity to develop stronger cooperation in the Mediterranean and the Indian Ocean", organizzata dal Ministero degli Affari Esteri e della Cooperazione Internazionale in collaborazione con la presidenza sudafricana di IORA e con il supporto della Federazione del Mare, in rappresentanza del cluster marittimo italiano.
A tal fine, il 29 aprile la Federazione del Mare ha organizzato una riunione di coordinamento alla quale sono intervenuti rappresentanti della Federazione del Mare, del MAECI e delle Ambasciate in Italia di Bangladesh, Emirati Arabi Uniti, India, Indonesia, Iran, Madagascar, Malaysia, Sri Lanka e Sud Africa.
L'evento del 17 maggio si inserisce nel programma di EXCO 2019, prima fiera internazionale dedicata alla cooperazione, ed è finalizzato a favorire i contatti tra l'Italia e gli Stati IORA e naturalmente il cluster marittimo italiano, sulle principali tematiche della Blue Economy quali: pesca e acquacoltura, energie oceaniche rinnovabili, porti e spedizioni marittime, ricerca e sviluppo in biologia marina, turismo e sviluppo delle comunità costiere.