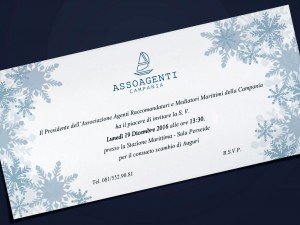 Un brindisi di Natale e di fine Anno, il confronto aperto e costruttivo sulla portualità campana e un riconoscimento ufficiale ai giornalisti territoriali del settore dello Shipping. E' in breve il programma del meeting organizzato da Assoagenti Campania, il 19 dicembre alle ore 13.30 alla Stazione Marittima di Napoli.
"Un meeting nel quale abbiamo voluto esprimere la nostra gratitudine ai giornalisti che da sempre seguono con impegno e professionalità quanto accade nel settore dello shipping e della portualità – spiega Stefano Sorrentini, Presidente Assoagenti Campania – Una premiazione che intendiamo ripetere ogni anno, invitando i media a rafforzare la sinergia con la nostra Associazione, Enti ed Istituzioni di settore ed insieme collaborare per intraprendere le iniziative giuste per migliorare il sistema portuale campano".
Parteciperanno dunque i vertici della Direzione Marittima Regionale, Enti, Istituzioni ed Autorità. A fare da madrina per la premiazione dei giornalisti sara' Bianca D'Antonio, storica firma del mondo dello Shipping, un riferimento per gli Armatori Italiani d'Europa e per le Agenzie di settore, memoria storica e giornalista prestigiosa.
I premiati per la I edizione del "Award for outstanding Journalism & Writing in the Marine and Nautical Industry" saranno: Gianfranco Coppola della Rai, Antonino Pane del Mattino, Paolo Grassi del Corriere del Mezzogiorno, Tiziana Cozzi di La Repubblica, Vera Viola di Il Sole 24 Ore, Michele Armano di Il Denaro, Eduardo Cagnazzi di Il Roma, Luciano Bosso di Informazioni Marittime e del Bollettino Avvisatore Marittimo, Marco Caiazzo della rivista 30 Nodi e Antonio De Cesare di Porto&Diporto.